---
UDO - Universal Document Output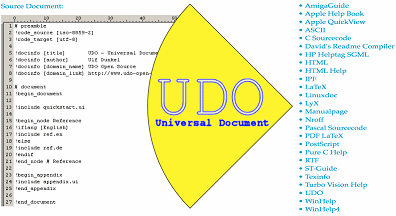 UDO (Universal Document Output) is a powerful and multi-purpose utility for creating documentation or any other text file needed in one text format or more. Though UDO is powerful, it is quite easy to understand and to use. UDO was originally shareware, before the author (Dirk Hagedorn) released it in 2001 as open source under the GPL licence.
UDO supports Unicode (UTF-8) and currently writes 26 different formats.
The UDO CLI (command line interpreter) is currently available for Mac OS X, Windows, Linux, and TOS.
This website is a portal for both UDO users and developers.
---